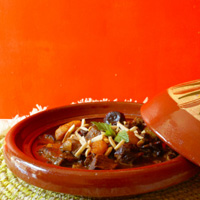 Ingredients:
2 c. calypso beans*
1 t. cumin
1-1/2 t. McKay's Chicken-Style Seasoning
1 t. Vege-Sal
salt to taste
1 t. basil
1/2 t. paprika
1/4 t. oregano
1 t. dillweed
1 large carrot, sliced or diced
2 c. shredded green cabbage
1 c. shredded red cabbage
1 lg. onion, cut in long thin strips
1 c. sliced celery
3 c. canned diced tomatoes in juice
* Calypso beans are a black-and-white bean. You can substitute pinto, kidney, or garbanzo beans.
Directions:
Soak dry beans overnight or boil in water and let soak one hour. Drain and discard water. Cover soaked beans with water in a large kettle 1 inch above beans (or use 4 cups of canned beans of your choice). Bring to a boil and simmer until nearly done (about 2 hours). Add seasonings and diced carrot; cook for 15 minutes; then add the remaining ingredients and cook 15-20 minutes longer or until vegetables are tender. You may need to add more water to achieve the consistency of a thick stew. Serve over rice or couscous. Preparation time: 30 minutes (plus one hour soaking time). Cooking time: 2 1/2 hours. Makes 10 cups.
Nutritional Information:
Per 1 cup stew on 1 cup couscous serving: calories: 205; protein: 20 percent RDA; fat: 4 percent RDA/.96 grams; carbohydrate: 76 percent RDA;
sodium: 51 milligrams.
---