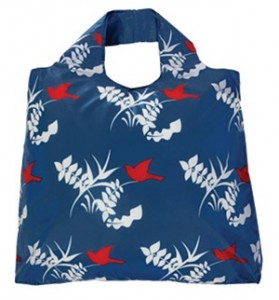 People ask me where I bought my reusable bags. They really do, all the time. That is, those who are not annoyed and/or threatened by them. I'm not sure where I originally found Envirosax, but at the time they were a tiny Australian company exporting handfuls of bags to the US at very dear shipping prices. I bought myself a bag o' sacks — it's a real thing — and then dozens more for everyone on my shopping list that year. The thing is, they were adorable! Sweet, printed florals or bold, sweeping graphics gave each bag purse potential. While the company has bloomed, I, along with the original recipients of my holiday 2005 buying spree, still carry the bags from my first Envirosax order. That's how durable they are, and mine have been sorely tested with everything from heavy canned goods to weekly farmers market runs. One bag has holes poked through the center after a loose artichoke prickled through two years ago and he's still going strong, though I'm careful about the artichokes these days.
This year I supplemented my fraying, tired collection with two newbies from Envirosax. (Now that I live in the country, I need a few extra bags for stocking up.) Yes, there are plenty of other reusable bag manufacturers. But I like to adopt the second and maybe even fourteenth cousins of my current bags and think of them all giddily catching up on family business when I'm asleep.
If I think about how many plastic bags I've avoided by using these five bags on nearly every outing for the past four years, I'm proud of the tiny dent I've made. I'm down at least 1,040 bags, at five bags per week. Scoff if you must, but it's more than a few bags.

When I moved to rural Kansas, I noted the eye rolling and heaving sighs as I unveiled the bags at the local grocery, at the farmers market, the antique store. It was downright embarrassing sometimes, actually, and often frustrating. But rather than think of myself as an emissary for world peace (which I am) and singing "have patience" under my breath, I carried my bags because I believe in them. They make a difference. I do love my bags — let's be honest, we have a relationship at this point —, and they make a statement about me: I care.
---