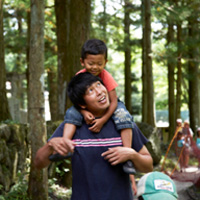 In a recent U.S. News and World Report article titled "10 Health Habits That Will Help You Live to 100," sandwiched between suggestions to floss your teeth and stay connected with your friends, was a piece of surprising advice: "Live like a Seventh-day Adventist."
Not long before that article was published, the national best-selling book The Blue Zonesrecognized Loma Linda, California, as one of the world's longevity "hot spots" because of its high concentration of Seventh-day Adventists.
This and other media coverage is undeniably merited, considering Adventists have a life
expectancy about a decade longer than the average American. So, what do Adventists know that
others don't?
The following pages hold the answer.
In this issue, you'll hear from Gary Fraser, who has spent years researching the Adventist lifestyle. He shares five proven lifestyle practices common to Adventism that will actually add up to two years of life each—10 years in total (p. 10). Also, The Blue Zones author Dan Buettner reveals what he learned from Adventists in Loma Linda (p. 6). You'll even meet six lively, inspiring Adventists, ranging in age from 90 to 105, who prove that the later years need not be marked by weakness or inactivity.
But, of course, there's more to health and vitality than just a checklist of "dos" and "don'ts." Part of the secret, in fact, is that Adventists have long honored the mind-body-spirit connection, realizing that the components of our God-given lives are all linked.
Accordingly, how we approach life and spirituality contributes to our overall well-being. So besides exploring several life-extending physical practices (starting on p. 12), this issue also reveals a close-up look at two health-enhancing spiritual practices common to Adventism: the restorative power of Sabbath rest (p. 26) and the positive impact of belonging to a spiritual community (p. 22).
Best of all, the longevity secrets in this issue will add not only years but also quality to your life. I hope you discover something here that will inspire you to make the most of your days—maximizing them in number and quality. As Jonathan Swift wrote, "May you live all the days of your life."
---