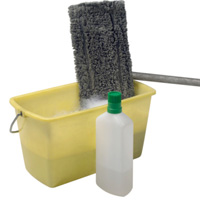 Nontoxic recipes for home-cleaning come together easily for daily use. You may already have most of the ingredients on hand, as well as various re-usable bottes, spray-top bottles, glass jars with screw-top lids, salvaged old t-shirts and sponges. Add a little elbow grease, and your home is sure to shine.
Some newer ingredients now available to homemakers are tea tree and essential oils, both used in the disinfectant spray recipe below. Many local co-ops, apothecaries, and organic foods stores are now selling a variety of these strongly-scented oils for both homeopathic and everyday use. Tea tree oil is a natural disinfectant with antibacterial, antiviral and antifungal properties. Essential oils are costly, but just a drop or two adds a lovely scent to any cleaning supply recipes, entirely masking the use of vinegar. Oils range in scent from classic lemon to cinnamon to summer berry.

Laundry Detergent
1 oz. liquid castile soap
1/2 cup washing soda
1/4 cup baking soda or 1/4 cup white vinegar
Using the liquid castile soap as a base, combine with washing soda (regular washing), and either baking soda (reduces static and softens fabrics) or white vinegar (reduces static, softens fabrics, and bleaches clothes). This recipe is for one load of wash. If your clothes aren't clean enough, add more liquid castile soap one ounce at a time, using up to 1 cup (8 ounces) per load.
Laundry Bleach Alternative
1/2 cup hydrogen peroxide
Wood Floor Polish
1/4 cup white vinegar
1 gallon warm water
Mix in a large mopping bucket and mop as usual.
Copper and Brass Cleaner
2 Tbsps salt
White vinegar
Flour, if necessary
Add vinegar to salt until you've created a paste. Apply with a rag and rub clean. If the paste is too hard for your piece, add flour to reduce abrasiveness.
Stainless Steel Cleaner
Baking soda
White vinegar
Apply baking soda with a damp cloth, using the vinegar to eliminate spots.
Disinfectant Spray
2 Cups Water
1/4 Cup White Vinegar
1/4 tsp. Tea Tree Oil
1/4 tsp. Lavender Oil
Combine and store in a spray bottle. Shake occasionally. Use where ever a disinfectant spray is needed.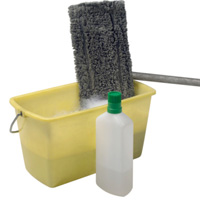 ---