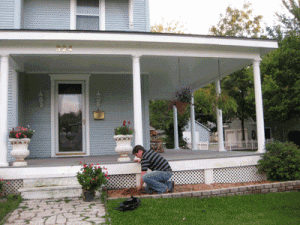 The hubby and I wrapped up this year's landscaping attempt with two half-price perennials from Home Depot. We're excited to try Dipladenias, which can grow as large as you train them, in our xeriscape, drought-tolerant garden. Normally, we've purchased plants from High Country Gardens, where the site will let you know what grows best in your area and recommend different plantlife based on rainfall. High Country Gardens also has an edible plant category, so you can enjoy foliage two ways. We love buying rare bulbs and seedlings here.

But we've started to notice that the local stores (Ace Hardware, TruValues, and even Home Depot and Lowes) tend to sell plants that do well in native soil. I might be slow to realize this, but my nerves get the best of me when spending money on things I know little about — like Kansas plants. Research makes me feel better about purchases, and so I slowly came to realize that landscaping stores stock entirely based on environmental factors already. Then all I had to do was wait for the discounted fall pricing on perennials before snapping up a few things I've been eyeing all season.
I'm extremely excited for the beautiful plants will have growing next spring. Once my hardy purple salvies, double pink peonies and tulip-shaped dipladenias burst into flower, you'll find me trolling garage sales for porch furniture to sit on while gazing at my florals all summer.
---