"It's just too expensive to eat right!"
"I don't have the money to buy all those fruits and vegetables."
"Those low-fat, low-sugar foods cost so much!"
When you're on a tight budget, grocery shopping can be a frustrating experience. But it doesn't have to be. It's a common misconception that you'll have to sacrifice good nutrition if you cut back on food expenses. Not true. With a little pre-planning, you can eat healthfully on a budget. You can enjoy greater variety, avoid deprivation, and gain a shopping strategy that is both easy on your waistline and your wallet.
Here are just some of the many ways you can be healthier and wealthier by getting wiser about planning meals and shopping:
To avoid overspending, swap grocery lists with your mother, sister, or friend. Here's how it works: I give my mom my list and the money to cover it, and she picks up the stuff. Then I do the same for her. This eliminates impulse purchases for both of us because we're buying for the other with money that's not our own.
Go vegetarian. One of the best ways to trim your food budget is by cutting out the more expensive items such as meat, fish, and chicken. Including more fruits, vegetables, and grains in your diet is not only healthier but also easier on the wallet.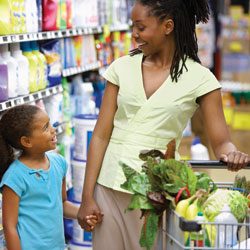 Give coupons a try. We all know that coupons save money, but some people still refuse to use them. While I am not an extreme couponer, I do believe coupons are well worth the effort. I regularly have at least $10 taken off my total. While that may not seem like much, multiply that by 52 weeks and you'll have a savings of at least $520 a year.
Know when not to buy bulk. There's a lot of debate about whether shopping at warehouse stores, such as Sam's Club or Costco, is really worth the price. It depends on what you're buying. At our local Sam's Club I've found many food items that we use regularly, such as spaghetti and oatmeal, cheaper in bulk; other items, such as cereal, are cheaper elsewhere, especially when sale prices are combined with coupons. Don't assume buying bulk is always cheaper. Do a little price research before making a purchase.
Plan for your needs throughout the year. Summer is a great time to start saving those foods you'd like to eat year round. Farmers' markets are a great place to stock up on cheap, nutritious foods. My mom hits the farmers' markets to preserve enough green beans, peaches, and cherries to last a whole year.
Get creative. During time when our finances were spread thin, we've gotten creative. We've learned to use ingredients we have on hand, sometimes substituting something we have for something we've run out of. We use leftovers wisely and dig deep into the pantry. In the end, we've come up with some pretty good new dishes.
Don't assume fast food is the only restaurant food you can afford. Eating out doesn't have to wreck your budget or your health goals. Our family of six can eat at McDonald's for about $28, but for just a few dollars more we can get healthier, more satisfying food by purchasing the all-you-can-eat salad bar at the local steak and seafood restaurant.
Remember there's more than one way to save at restaurants. Whenever possible we use coupons, usually worth $5 to $10 off our bill (check online or for promotional flyers in the mail). In addition, we purchase one meal for our 5- and 7-year-old to share (adults can do this as well, considering how large restaurant portion sizes are). Another option: eat half of the main course and take the rest home for another meal the following day.
Do your grocery shopping alone. I have four children and have noticed that the amount of my grocery bill rises in direct correlation to how many kids come with me to the grocery store. Add my husband, who loves to cook, and the bill goes even higher.
Make soup night a tradition in your home. One of the least expensive and most nutritious meals you can put together is soup and crusty bread. Thick soups, such as chili or split pea, contain lots of fiber that fill you up quickly, so they make a nice hearty meal.
Have a plan. Before you do your grocery shopping, prepare a one- or two-week meal plan. This will keep you on track with your budget and your nutrition, since you'll be less tempted to purchase higher-priced, less-nutritious convenience foods.
Find ways to get organic for less. There are ways to buy some organic products without wrecking your budget. For instance, I stock up on my favorite organic Kashi cereal when it's on sale or I have coupons for it. You can also find organic foods at warehouse stores, or you could be adventurous and try growing some yourself.
Don't throw out leftovers, no matter how small the amount. Save even a few spoonfuls of leftover veggies from lunch (such as olives, tomatoes, or broccoli) to sprinkle on a pizza for dinner. Leftovers are common with many meals, so make the most of them. With a little ingenuity, leftovers can be the budget-conscious cook's best friends.
Make your own healthy snacks. There's a plethora of really cheap snacks out there, but they just aren't very healthy. Make your own snacks from the healthy food you already buy, such as veggie or fruit kabobs or popsicles made from fruit juice.
Start a neighborhood food swap. Here's how it works: To get four meals a week, find three additional families interested in meal swapping. Each family makes enough of a meal for their own family and the three other families. The upside is that you're only cooking once, and the ingredients you use will be cheaper because you're purchasing them in larger quantities.
Staying within a budget always feels good. Thankfully, you don't have to sacrifice nutrition to do so. Saving money is great, but saving money while improving your health is even better.
With nearly 900 published articles, Tammy Darling writes from her home in Three Springs, Pennsylvania. And with six mouths to feed, she's always on the lookout for ways to eat well on a budget.