Vibrant Life 5K Fun Run Results for 2012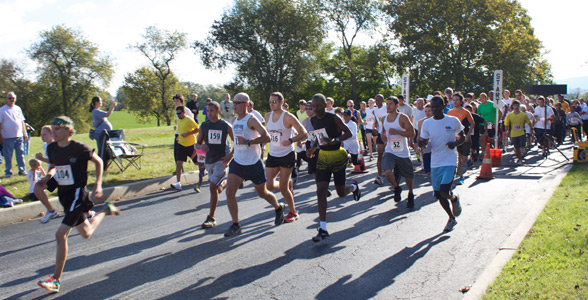 In its 14th year, we expanded the fun run to include a Health Expo. Hundreds attended the event, 159 of whom participated in the 5K Fun Run. A Kid's Health Expo, led by Phyllis Washington, Dir. of NAD Children's Ministries, and the Review's Candy DeVore, featured 8 booths bursting with fun health activities for kids. Adult attendees had their own "booth village" where they also learned about the 8 laws, received resources, participated in health screenings, and watched food demonstrations.
See you next year.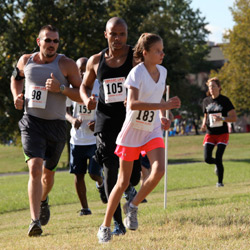 Click here to see pictures of this year's fun run and health expo event.
Age Group Results
September 23, 2012
Female Open Winners
                                                                                               Chip         Gun
    

Place

    

Name

                              

City

              

Bib No

  

Age

   

Overall

         

Time

        

Time

        

Pace


       1    Tracy Barlup                      Hagerstown  MD        185   45       15       23:25.95    23:25.95      7:33/M
Male Open Winners
                                                                                               Chip         Gun
    

Place

    

Name

                              

City

              

Bib No

  

Age

   

Overall

         

Time

        

Time

        

Pace


       1    Bryan Durbosaw                    Hagerstown  MD        104   17        1       17:45.40    17:45.40      5:44/M
Female 5 to 8
                                                                                               Chip         Gun
    

Place

    

Name

                              

City

              

Bib No

  

Age

   

Overall

         

Time

        

Time

        

Pace


       1    Natalie Retana                    Centreville  VA       112   5        60       32:54.20    32:54.20     10:37/M
       2    Kelli Martin                      Boonsboro  MD          91   8        95       41:12.45    41:12.45     13:17/M
Male 5 to 8
                                                                                               Chip         Gun
    

Place

    

Name

                              

City

              

Bib No

  

Age

   

Overall

         

Time

        

Time

        

Pace


       1    Lex Titus                         Montgomery Village    178   8        53       30:45.20    30:45.20      9:55/M
       2    Kevin Rinard                      Frostburg  MD         109   7        80       37:42.25    37:42.25     12:10/M
       3    Dra'Shaun Jenkins                 Washington  DC         60    7       83       37:54.70    37:54.70     12:14/M
       4    Ryan Busch                        Mercersburg  PA        97   6       124       47:46.70    47:46.70     15:25/M
       5    Chris Martin                      Boonsboro  MD          90   5       139       53:36.60    53:36.60     17:17/M
       6    Nathaniel Goddard                 Martinsburg  WV        33    5      146       57:34.85    57:34.85     18:34/M
Female 9 to 12
                                                                                               Chip         Gun
    

Place

    

Name

                              

City

              

Bib No

  

Age

   

Overall

         

Time

        

Time

        

Pace


       1    Grace Banfe                       Greencastle  PA        77   11       39       28:10.25    28:10.25      9:05/M
       2    Kelly Baitinger                   Berkeley Springs  W    73   10       62       33:17.95    33:17.95     10:44/M
       3    Waverly Regina                    Hedgesville  WV       122   9       103       43:19.35    43:19.35     13:58/M
       4    Sara Baitinger                    Berkeley Springs  W    71   12      112       45:51.65    45:51.65     14:47/M
       5    Danielle Odonnel                  Williamsport  MD      188   11      114       45:54.55    45:54.55     14:48/M
Male 9 to 12
                                                                                               Chip         Gun
    

Place

    

Name

                              

City

              

Bib No

  

Age

   

Overall

         

Time

        

Time

        

Pace


       1    Banks Alijah                      Hancock  MD           154   12       67       33:46.30    33:46.30     10:54/M
       2    Nicolas Martins                   Frederick  MD         147   10       93       41:10.95    41:10.95     13:17/M
Female 13 to 15
                                                                                               Chip         Gun
    

Place

    

Name

                              

City

              

Bib No

  

Age

   

Overall

         

Time

        

Time

        

Pace


       1    Coramina Cogan                    Greencastle  PA        92   13       29       25:52.15    25:52.15      8:21/M
       2    Hannah Kulla                      Waynesboro  PA        183   13       32       26:38.75    26:38.75      8:35/M
       3    Hannah Butler                     Martinsburg  WV         2   14      107       44:36.65    44:36.65     14:23/M
       4    Jacelyn Tye                       Frederick  MD           5   14      119       47:03.50    47:03.50     15:11/M
       5    Emely Villatoro                   Frederick  MD         140   13      158     1:18:17.65  1:18:17.65     25:15/M
Male 13 to 15
                                                                                               Chip         Gun
    

Place

    

Name

                              

City

              

Bib No

  

Age

   

Overall

         

Time

        

Time

        

Pace


       1    Lorenzo Neil                      Laurel  MD            159   15        2       18:17.45    18:17.45      5:54/M
       2    Brendon Dod                       Hagerstown  MD        181   15       10       22:45.40    22:45.40      7:20/M
       3    Marte Alexander                   Berkeley Springs  N   126   15       18       23:55.00    23:55.00      7:43/M
       4    Kaleb Aneano                      Hedgesville  WV       149   14       34       26:58.05    26:58.05      8:42/M
       5    Luke Spafford                     Westminster  MD       134   15       43       29:09.00    29:09.00      9:24/M
       6    CODY PERKINS                      Martinsburg  WV       173   13       48       29:38.75    29:38.75      9:34/M
       7    Danny Yonkers                     Fairplay  MD           37   13       50       30:23.25    30:23.25      9:48/M
       8    Alvin Banks                       Hancock  MD           153   14       75       36:29.70    36:29.70     11:46/M
       9    William Godlove                   Williamsport  MD       82   13       81       37:44.20    37:44.20     12:10/M
      10    Blake Walters                     Hagerstown  MD         85   14       85       38:20.10    38:20.10     12:22/M
Female 16 to 19
                                                                                               Chip         Gun
    

Place

    

Name

                              

City

              

Bib No

  

Age

   

Overall

         

Time

        

Time

        

Pace


       1    Sheridan Reginato                 Hedgesville  WV       120   16       37       27:17.75    27:17.75      8:48/M
       2    Karrah Weaver                     Williamsport  MD       38   19       38       27:23.55    27:23.55      8:50/M
       3    Kristen Haupt                     Greensboro  NC         95   16       47       29:33.90    29:33.90      9:32/M
       4    Bianca Carrera                    Frederick  MD         138   16       92       39:45.05    39:45.05     12:49/M
       5    Fabiola Villatoro                 Frederick  MD         144   17      123       47:44.25    47:44.25     15:24/M
       6    Wendy Corrales                    Frederick  MD         145   16      159     1:18:18.15  1:18:18.15     25:15/M
Male 16 to 19
                                                                                               Chip         Gun
    

Place

    

Name

                              

City

              

Bib No

  

Age

   

Overall

         

Time

        

Time

        

Pace


       1    C. R. Miller                      Waynesboro  PA        116   17        5       19:48.30    19:48.30      6:23/M
       2    Matthew Meadows                   Elkton  VA            184   19        7       22:06.15    22:06.15      7:08/M
       3    Hunter Sorensen                   Hagerstown  MD        182   16        8       22:24.15    22:24.15      7:14/M
       4    Wilhem Santay                     Frederick  MD         142   17       23       24:57.25    24:57.25      8:03/M
       5    Caleb Shelter                     Ruckersville  VA      124   16       25       25:19.55    25:19.55      8:10/M
       6    Alex Sontay                       Frederick  MD         143   16       27       25:32.75    25:32.75      8:14/M
       7    Edward K. Brolon, Jr              annapolis  MD          80   18       30       26:21.95    26:21.95      8:30/M
Female 20 to 29
                                                                                               Chip         Gun
    

Place

    

Name

                              

City

              

Bib No

  

Age

   

Overall

         

Time

        

Time

        

Pace


       1    Leann Michael                     Hagerstown  MD         48   26       40       28:38.70    28:38.70      9:14/M
       2    Heather Lowery                    Williamsport  MD       32   22       63       33:18.95    33:18.95     10:45/M
       3    Morgan Smith                      Williamsport  MD       31   22       68       33:47.75    33:47.75     10:54/M
       4    Kate Wallace                      Frostburg  MD         180   22       69       33:48.95    33:48.95     10:54/M
       5    Carrie Wachter                    Great Cacapon  WV     114   20       72       35:19.35    35:19.35     11:24/M
       6    Caroline Ferreria                 Hagerstown  MD        157   20       73       35:27.00    35:27.00     11:26/M
       7    Roshaunda Jenkins                 Washington  DC         61   28       82       37:53.90    37:53.90     12:13/M
       8    Paige Albert                      Hagerstown  MD         45   20       84       37:56.65    37:56.65     12:14/M
       9    Carley McGann                     Frostburg  MD          57   29       88       38:47.35    38:47.35     12:31/M
      10    Kezia Coleman                     Annapolis  MD          78   22       91       39:34.35    39:34.35     12:46/M
      11    Kari Williams                     Inwood  WV             18   26       97       41:57.10    41:57.10     13:32/M
Male 20 to 29
                                                                                               Chip         Gun
    

Place

    

Name

                              

City

              

Bib No

  

Age

   

Overall

         

Time

        

Time

        

Pace


       1    Josue Orellana                    Baltimore  MD         187   22        9       22:35.80    22:35.80      7:17/M
       2    Jonathan Reber                    Hagerstown  MD         52   29       12       23:09.20    23:09.20      7:28/M
       3    Nick Grove                        Hagerstown  MD        150   28       19       23:55.85    23:55.85      7:43/M
       4    Devin Abshire                     Frederick  MD          42   20       28       25:45.30    25:45.30      8:18/M
       5    Travis Taylor                     Hagerstown  MD        132   28       31       26:27.10    26:27.10      8:32/M
       6    tyler weneck                      Hagerstown  MD        128   28       44       29:14.40    29:14.40      9:26/M
       7    Robert Smith                      Frostburg  MD          35   28       74       36:10.90    36:10.90     11:40/M
Female 30 to 39
                                                                                               Chip         Gun
    

Place

    

Name

                              

City

              

Bib No

  

Age

   

Overall

         

Time

        

Time

        

Pace


       1    Janelle Morikone                  Vienna  WV             56   33       41       28:57.90    28:57.90      9:20/M
       2    Gwendolyn Gainer                  New Market  MD        101   39       52       30:42.15    30:42.15      9:54/M
       3    Christy Fraga                     Bunker Hill  WV        43   31       55       30:54.35    30:54.35      9:58/M
       4    Sarah Tye                         Frederick  MD           6   34       66       33:27.60    33:27.60     10:47/M
       5    Jenn Showe                        Hagerstown  MD        174   34       86       38:30.20    38:30.20     12:25/M
       6    Paulett Rinard                    Frostburg  MD         111   35       87       38:46.95    38:46.95     12:30/M
       7    Lisa Gregory                      Inwood  WV             19   32       96       41:54.95    41:54.95     13:31/M
       8    Claire Catanaun                   Rockville  MD          79   30       98       42:00.75    42:00.75     13:33/M
       9    Stacey Warnick                    Frostburg  MD          24   38      106       44:20.75    44:20.75     14:18/M
      10    Lisa Gabriel                      Beltsville  MD         74   32      110       45:20.75    45:20.75     14:37/M
      11    Cinnamon Pettijohn                Takoma Park  MD        62   34      120       47:15.95    47:15.95     15:15/M
      12    Nickie Busch                      Mercersburg  PA        96   35      125       47:47.25    47:47.25     15:25/M
      13    Dawn Wolters                      Hagerstown  MD         84   37      128       49:58.10    49:58.10     16:07/M
      14    Tonya Baitinger                   Berkeley Springs  W    72   37      129       49:58.15    49:58.15     16:07/M
      15    Gabriela Monterrosa               Frederick  MD         139   38      130       50:25.80    50:25.80     16:16/M
      16    Dana Drew                         Falling Waters  WV     10   38      136       52:01.55    52:01.55     16:47/M
      17    Nicole Martin                     Boonsboro  MD          89   39      138       53:35.70    53:35.70     17:17/M
      18    Stephanie Goddard                 Martinsburg  WV        26   38      145       57:33.45    57:33.45     18:34/M
      19    Katie Grant                       Richmond  VA          100   31      148     1:01:30.10  1:01:30.10     19:50/M
      20    Santia Go                         Frederick  MD         106   39      156     1:14:40.35  1:14:40.35     24:05/M
Male 30 to 39
                                                                                               Chip         Gun
    

Place

    

Name

                              

City

              

Bib No

  

Age

   

Overall

         

Time

        

Time

        

Pace


       1    Jason Saunders                    Williamsport  MD       98   35       13       23:09.95    23:09.95      7:28/M
       2    Joshua Voigt                      Owings Mills  MD      130   30       16       23:40.80    23:40.80      7:38/M
       3    Jason Williams                    Martinsburg  WV        22   31       17       23:54.80    23:54.80      7:43/M
       4    Adam Fredrickson                  Hagerstown  MD         54   31       20       24:05.40    24:05.40      7:46/M
       5    Shawn Osborne                     Forestville  MD       105   31       21       24:10.95    24:10.95      7:48/M
       6    Michael Wiles                     Hagerstown  MD         53   30       24       25:11.90    25:11.90      8:07/M
       7    Herbert Danison III               Middletown  MD         87   35       45       29:29.90    29:29.90      9:31/M
       8    Tom Fraga                         Bunker Hill  WV        44   30       56       30:56.15    30:56.15      9:59/M
       9    Brett Titus                       Montgomery Village    179   34       57       31:39.10    31:39.10     10:13/M
      10    David Pradegs                     Brentwood  MD          75   35       64       33:22.35    33:22.35     10:46/M
      11    Luis Bacflo                       Hagerstown  MD        161   37       99       42:06.50    42:06.50     13:35/M
      12    Gregg Baitinger                   Berkeley Springs  W    70   37      113       45:52.20    45:52.20     14:48/M
      13    Brett Sisler                      Hagerstown  MD         23   36      121       47:27.15    47:27.15     15:18/M
Female 40 to 49
                                                                                               Chip         Gun
    

Place

    

Name

                              

City

              

Bib No

  

Age

   

Overall

         

Time

        

Time

        

Pace


       1    Tameron Marriner                  Hagerstown  MD        125   47       33       26:43.55    26:43.55      8:37/M
       2    Joyce Rudy                        Martinsburg  WV       176   49       36       27:12.15    27:12.15      8:46/M
       3    Joan Divinagracia                 Hagerstown  MD         12   42       42       28:57.95    28:57.95      9:20/M
       4    Soledad Martins                   Frederick  MD         148   42       77       36:39.40    36:39.40     11:49/M
       5    Paula Pridemore                   Smithsburg  MD         29   44       79       37:39.60    37:39.60     12:09/M
       6    Denise Abshire                    Frederick  MD          40   46       89       38:47.75    38:47.75     12:31/M
       7    Robin Wells                       Catonsville  MD        46   42      116       46:22.95    46:22.95     14:57/M
       8    Idelys Jepson                     Frederick  MD          50   46      117       46:24.75    46:24.75     14:58/M
       9    Leslie Vanorsdale                 Inwood  WV              9   45      135       52:01.30    52:01.30     16:47/M
      10    Tammie Nieb                       Smithsburg  MD        172   49      141       54:35.35    54:35.35     17:36/M
      11    Alexendra Carlera                 Frederick  MD         137   45      143       56:50.75    56:50.75     18:20/M
      12    Loranda Distan                    Hancock  MD           152   46      151     1:01:32.35  1:01:32.35     19:51/M
Male 40 to 49
                                                                                               Chip         Gun
    

Place

    

Name

                              

City

              

Bib No

  

Age

   

Overall

         

Time

        

Time

        

Pace


       1    Andy Mason                        Hagerstown  MD        123   40        3       18:18.55    18:18.55      5:54/M
       2    Kennie Edwards                    Washington  DC         30   46        6       20:24.75    20:24.75      6:35/M
       3    Chris Carlton                     Hagerstown  MD        186   44       11       22:51.55    22:51.55      7:22/M
       4    Brad Baker                        Myersville  MD         93   45       22       24:20.05    24:20.05      7:51/M
       5    Charlie Eklund                    Hagerstown  MD         55   40       26       25:20.95    25:20.95      8:10/M
       6    DWAIN ESMOND                      Gaithersburg  MD      119   40       49       29:41.80    29:41.80      9:35/M
       7    Bill Abshire                      Frederick  MD          41   45       51       30:30.10    30:30.10      9:50/M
       8    Robert Jepson                     Frederick  MD          49   47       61       33:01.55    33:01.55     10:39/M
       9    Brian Rudy                        Martinsburg  WV       177   49       65       33:23.45    33:23.45     10:46/M
      10    Ray Wachter                       Great Cacapon  WV     113   45       71       35:18.95    35:18.95     11:23/M
      11    Wayne Martin                      Boonsboro  MD          88   44       94       41:12.25    41:12.25     13:17/M
      12    Kevin Warnick                     Frostburg  MD          25   41      105       44:20.60    44:20.60     14:18/M
      13    Kevin Neib                        Smithsburg  MD        171   49      140       54:35.00    54:35.00     17:36/M
Female 50 to 59
                                                                                               Chip         Gun
    

Place

    

Name

                              

City

              

Bib No

  

Age

   

Overall

         

Time

        

Time

        

Pace


       1    Karlleen Stockman                 Sharpsburg  MD         11   50       58       31:41.30    31:41.30     10:13/M
       2    Cesalie Jenkins                   Washington  DC         59   53       59       32:44.15    32:44.15     10:34/M
       3    Starlene Hamilton                 Williamsport  MD      102   50       70       34:24.70    34:24.70     11:06/M
       4    Betty Haupt                       Hagerstown  MD         94   52       76       36:37.75    36:37.75     11:49/M
       5    Kim Smith                         Frostburg  MD          47   55       78       37:08.65    37:08.65     11:59/M
       6    Barbara Brostrom                  Gerrardstown  WV       58   52       90       39:28.00    39:28.00     12:44/M
       7    Floyee Reginato                   Hedgesville  WV       121   52      115       46:16.55    46:16.55     14:55/M
       8    Laurie Wilson                     Baltimore  MD         175   51      118       46:30.05    46:30.05     15:00/M
       9    Judy Ramsburg                     Hagerstown  MD         69   51      126       47:58.45    47:58.45     15:28/M
      10    Crystal Hollingsworth             Glenarden  MD          51   50      134       51:56.35    51:56.35     16:45/M
      11    Oliver Herrera                    Frederick  MD         146   50      144       56:51.40    56:51.40     18:20/M
      12    Alexandria Funes                  Frederick  MD         155   53      147     1:00:16.45  1:00:16.45     19:26/M
      13    Alice Haumann                     Frederick  MD          99   55      149     1:01:30.15  1:01:30.15     19:50/M
      14    Gail Gayer                        Frederick  MD         156   56      150     1:01:30.35  1:01:30.35     19:50/M
      15    Sharon D Williams                 Eldersburg  MD        127   52      152     1:14:36.70  1:14:36.70     24:04/M
      16    Janlfe Shaw                       Sykesville  MD        131   50      157     1:15:03.35  1:15:03.35     24:13/M
Male 50 to 59
                                                                                               Chip         Gun
    

Place

    

Name

                              

City

              

Bib No

  

Age

   

Overall

         

Time

        

Time

        

Pace


       1    Dennis Coleman                    Gaithersburg  MD       28   54        4       19:45.25    19:45.25      6:22/M
       2    Tim Clark                         Boonsboro  MD          86   54       14       23:17.35    23:17.35      7:31/M
       3    Joe Weaver                        Williamsport  MD       39   56       35       26:59.70    26:59.70      8:42/M
       4    Eddie Forsythe                    Hagerstown  MD         81   51      122       47:27.80    47:27.80     15:18/M
       5    Elmer Herrera                     Frederick  MD         141   54      142       56:48.05    56:48.05     18:19/M
Female 60 to 69
                                                                                               Chip         Gun
    

Place

    

Name

                              

City

              

Bib No

  

Age

   

Overall

         

Time

        

Time

        

Pace


       1    Lori Pennington                   Knoxville  MD          21   60       54       30:48.85    30:48.85      9:56/M
       2    Sharleen Sterner                  Woodbine  MD          136   61      102       42:58.80    42:58.80     13:52/M
       3    Suzanne Bucci                     Shepherdstown  WV       8   65      104       43:21.25    43:21.25     13:59/M
       4    June Moeller                      Rohrersville  MD       27   69      127       49:37.70    49:37.70     16:00/M
       5    Joyce Lanzer                      Essex  MD              34   61      137       53:19.85    53:19.85     17:12/M
Male 60 to 69
                                                                                               Chip         Gun
    

Place

    

Name

                              

City

              

Bib No

  

Age

   

Overall

         

Time

        

Time

        

Pace


       1    Ray Sterner                       Woodbine  MD          135   60      101       42:54.35    42:54.35     13:50/M
       2    Abraham Beltran                   German Town  MD        76   60      108       44:41.15    44:41.15     14:25/M
       3    Ray Daugherty                     Myersville  MD        103   69      109       45:19.90    45:19.90     14:37/M
       4    Glenn Rea                         Hagerstown  MD          1   69      111       45:51.45    45:51.45     14:47/M
       5    Ray Hykes                         Hagerstown  MD         83   62      131       50:29.65    50:29.65     16:17/M
Female 70 and over
                                                                                               Chip         Gun
    

Place

    

Name

                              

City

              

Bib No

  

Age

   

Overall

         

Time

        

Time

        

Pace


       1    Kate Smith                        Hagerstown  MD        115   82      132       50:37.10    50:37.10     16:20/M
       2    Estelle Calbu                     Eldersburg  MD        129   80      153     1:14:36.75  1:14:36.75     24:04/M
       3    MaryLynne Shaw                    Sykesville  MD        133   78      154     1:14:39.35  1:14:39.35     24:05/M
       4    Gladys Santiago                   Greensboro  NC        108   70      155     1:14:40.25  1:14:40.25     24:05/M
Male 70 and over
                                                                                               Chip         Gun
    

Place

    

Name

                              

City

              

Bib No

  

Age

   

Overall

         

Time

        

Time

        

Pace


       1    Ruben Melendez                    Philadelphia  PA      118   77       46       29:31.75    29:31.75      9:31/M
       2    Bill Zelenak                      Greensboro  NC        107   74      100       42:20.70    42:20.70     13:39/M
       3    Glenn Hykes                       Greencastle  PA       110   82      133       50:37.35    50:37.35     16:20/M
---
Overall Finish List
September 23, 2012
---
Results By Bluepoint Race Mangement & Timing LLC. Bluepoint Race Managment & Timing
---
                                                                                                                Chip         Gun
    

Place

    

Name

                              

City

               

Bib No

  

Age

 

Gend

    

Age Group

                 

Time

        

Time

        

Pace


       1    Bryan Durbosaw                    Hagerstown  MD        104    17   M       1 Open               17:45.40    17:45.40      5:44/M
       2    Lorenzo Neil                      Laurel  MD            159    15   M       1 13-15              18:17.45    18:17.45      5:54/M
       3    Andy Mason                        Hagerstown  MD        123    40   M       1 40-49              18:18.55    18:18.55      5:54/M
       4    Dennis Coleman                    Gaithersburg  MD       28    54   M       1 50-59              19:45.25    19:45.25      6:22/M
       5    C. R. Miller                      Waynesboro  PA        116    17   M       1 16-19              19:48.30    19:48.30      6:23/M
       6    Kennie Edwards                    Washington  DC         30    46   M       2 40-49              20:24.75    20:24.75      6:35/M
       7    Matthew Meadows                   Elkton  VA            184    19   M       2 16-19              22:06.15    22:06.15      7:08/M
       8    Hunter Sorensen                   Hagerstown  MD        182    16   M       3 16-19              22:24.15    22:24.15      7:14/M
       9    Josue Orellana                    Baltimore  MD         187    22   M       1 20-29              22:35.80    22:35.80      7:17/M
      10    Brendon Dod                       Hagerstown  MD        181    15   M       2 13-15              22:45.40    22:45.40      7:20/M
      11    Chris Carlton                     Hagerstown  MD        186    44   M       3 40-49              22:51.55    22:51.55      7:22/M
      12    Jonathan Reber                    Hagerstown  MD         52    29   M       2 20-29              23:09.20    23:09.20      7:28/M
      13    Jason Saunders                    Williamsport  MD       98    35   M       1 30-39              23:09.95    23:09.95      7:28/M
      14    Tim Clark                         Boonsboro  MD          86    54   M       2 50-59              23:17.35    23:17.35      7:31/M
      15    Tracy Barlup                      Hagerstown  MD        185    45   F       1 Open               23:25.95    23:25.95      7:33/M
      16    Joshua Voigt                      Owings Mills  MD      130    30   M       2 30-39              23:40.80    23:40.80      7:38/M
      17    Jason Williams                    Martinsburg  WV        22    31   M       3 30-39              23:54.80    23:54.80      7:43/M
      18    Marte Alexander                   Berkeley Springs  N   126    15   M       3 13-15              23:55.00    23:55.00      7:43/M
      19    Nick Grove                        Hagerstown  MD        150    28   M       3 20-29              23:55.85    23:55.85      7:43/M
      20    Adam Fredrickson                  Hagerstown  MD         54    31   M       4 30-39              24:05.40    24:05.40      7:46/M
      21    Shawn Osborne                     Forestville  MD       105    31   M       5 30-39              24:10.95    24:10.95      7:48/M
      22    Brad Baker                        Myersville  MD         93    45   M       4 40-49              24:20.05    24:20.05      7:51/M
      23    Wilhem Santay                     Frederick  MD         142    17   M       4 16-19              24:57.25    24:57.25      8:03/M
      24    Michael Wiles                     Hagerstown  MD         53    30   M       6 30-39              25:11.90    25:11.90      8:07/M
      25    Caleb Shelter                     Ruckersville  VA      124    16   M       5 16-19              25:19.55    25:19.55      8:10/M
      26    Charlie Eklund                    Hagerstown  MD         55    40   M       5 40-49              25:20.95    25:20.95      8:10/M
      27    Alex Sontay                       Frederick  MD         143    16   M       6 16-19              25:32.75    25:32.75      8:14/M
      28    Devin Abshire                     Frederick  MD          42    20   M       4 20-29              25:45.30    25:45.30      8:18/M
      29    Coramina Cogan                    Greencastle  PA        92    13   F       1 13-15              25:52.15    25:52.15      8:21/M
      30    Edward K. Brolon, Jr              annapolis  MD          80    18   M       7 16-19              26:21.95    26:21.95      8:30/M
      31    Travis Taylor                     Hagerstown  MD        132    28   M       5 20-29              26:27.10    26:27.10      8:32/M
      32    Hannah Kulla                      Waynesboro  PA        183    13   F       2 13-15              26:38.75    26:38.75      8:35/M
      33    Tameron Marriner                  Hagerstown  MD        125    47   F       1 40-49              26:43.55    26:43.55      8:37/M
      34    Kaleb Aneano                      Hedgesville  WV       149    14   M       4 13-15              26:58.05    26:58.05      8:42/M
      35    Joe Weaver                        Williamsport  MD       39    56   M       3 50-59              26:59.70    26:59.70      8:42/M
      36    Joyce Rudy                        Martinsburg  WV       176    49   F       2 40-49              27:12.15    27:12.15      8:46/M
      37    Sheridan Reginato                 Hedgesville  WV       120    16   F       1 16-19              27:17.75    27:17.75      8:48/M
      38    Karrah Weaver                     Williamsport  MD       38    19   F       2 16-19              27:23.55    27:23.55      8:50/M
      39    Grace Banfe                       Greencastle  PA        77    11   F       1  9-12              28:10.25    28:10.25      9:05/M
      40    Leann Michael                     Hagerstown  MD         48    26   F       1 20-29              28:38.70    28:38.70      9:14/M
      41    Janelle Morikone                  Vienna  WV             56    33   F       1 30-39              28:57.90    28:57.90      9:20/M
      42    Joan Divinagracia                 Hagerstown  MD         12    42   F       3 40-49              28:57.95    28:57.95      9:20/M
      43    Luke Spafford                     Westminster  MD       134    15   M       5 13-15              29:09.00    29:09.00      9:24/M
      44    tyler weneck                      Hagerstown  MD        128    28   M       6 20-29              29:14.40    29:14.40      9:26/M
      45    Herbert Danison III               Middletown  MD         87    35   M       7 30-39              29:29.90    29:29.90      9:31/M
      46    Ruben Melendez                    Philadelphia  PA      118    77   M       1 70-99              29:31.75    29:31.75      9:31/M
      47    Kristen Haupt                     Greensboro  NC         95    16   F       3 16-19              29:33.90    29:33.90      9:32/M
      48    CODY PERKINS                      Martinsburg  WV       173    13   M       6 13-15              29:38.75    29:38.75      9:34/M
      49    DWAIN ESMOND                      Gaithersburg  MD      119    40   M       6 40-49              29:41.80    29:41.80      9:35/M
      50    Danny Yonkers                     Fairplay  MD           37    13   M       7 13-15              30:23.25    30:23.25      9:48/M
      51    Bill Abshire                      Frederick  MD          41    45   M       7 40-49              30:30.10    30:30.10      9:50/M
      52    Gwendolyn Gainer                  New Market  MD        101    39   F       2 30-39              30:42.15    30:42.15      9:54/M
      53    Lex Titus                         Montgomery Village    178    8    M       1  5- 8              30:45.20    30:45.20      9:55/M
      54    Lori Pennington                   Knoxville  MD          21    60   F       1 60-69              30:48.85    30:48.85      9:56/M
      55    Christy Fraga                     Bunker Hill  WV        43    31   F       3 30-39              30:54.35    30:54.35      9:58/M
      56    Tom Fraga                         Bunker Hill  WV        44    30   M       8 30-39              30:56.15    30:56.15      9:59/M
      57    Unknown Partic. 117                                     117         M       1  0- 4              31:35.05    31:35.05     10:11/M
      58    Brett Titus                       Montgomery Village    179    34   M       9 30-39              31:39.10    31:39.10     10:13/M
      59    Karlleen Stockman                 Sharpsburg  MD         11    50   F       1 50-59              31:41.30    31:41.30     10:13/M
      60    Unknown Partic. 158                                     158         M       2  0- 4              31:45.25    31:45.25     10:15/M
      61    Cesalie Jenkins                   Washington  DC         59    53   F       2 50-59              32:44.15    32:44.15     10:34/M
      62    Natalie Retana                    Centreville  VA       112    5    F       1  5- 8              32:54.20    32:54.20     10:37/M
      63    Robert Jepson                     Frederick  MD          49    47   M       8 40-49              33:01.55    33:01.55     10:39/M
      64    Kelly Baitinger                   Berkeley Springs  W    73    10   F       2  9-12              33:17.95    33:17.95     10:44/M
      65    Heather Lowery                    Williamsport  MD       32    22   F       2 20-29              33:18.95    33:18.95     10:45/M
      66    David Pradegs                     Brentwood  MD          75    35   M      10 30-39              33:22.35    33:22.35     10:46/M
      67    Brian Rudy                        Martinsburg  WV       177    49   M       9 40-49              33:23.45    33:23.45     10:46/M
      68    Sarah Tye                         Frederick  MD           6    34   F       4 30-39              33:27.60    33:27.60     10:47/M
      69    Banks Alijah                      Hancock  MD           154    12   M       1  9-12              33:46.30    33:46.30     10:54/M
      70    Morgan Smith                      Williamsport  MD       31    22   F       3 20-29              33:47.75    33:47.75     10:54/M
      71    Kate Wallace                      Frostburg  MD         180    22   F       4 20-29              33:48.95    33:48.95     10:54/M
      72    Starlene Hamilton                 Williamsport  MD      102    50   F       3 50-59              34:24.70    34:24.70     11:06/M
      73    Ray Wachter                       Great Cacapon  WV     113    45   M      10 40-49              35:18.95    35:18.95     11:23/M
      74    Carrie Wachter                    Great Cacapon  WV     114    20   F       5 20-29              35:19.35    35:19.35     11:24/M
      75    Caroline Ferreria                 Hagerstown  MD        157    20   F       6 20-29              35:27.00    35:27.00     11:26/M
      76    Robert Smith                      Frostburg  MD          35    28   M       7 20-29              36:10.90    36:10.90     11:40/M
      77    Alvin Banks                       Hancock  MD           153    14   M       8 13-15              36:29.70    36:29.70     11:46/M
      78    Betty Haupt                       Hagerstown  MD         94    52   F       4 50-59              36:37.75    36:37.75     11:49/M
      79    Soledad Martins                   Frederick  MD         148    42   F       4 40-49              36:39.40    36:39.40     11:49/M
      80    Kim Smith                         Frostburg  MD          47    55   F       5 50-59              37:08.65    37:08.65     11:59/M
      81    Paula Pridemore                   Smithsburg  MD         29    44   F       5 40-49              37:39.60    37:39.60     12:09/M
      82    Kevin Rinard                      Frostburg  MD         109    7    M       2  5- 8              37:42.25    37:42.25     12:10/M
      83    William Godlove                   Williamsport  MD       82    13   M       9 13-15              37:44.20    37:44.20     12:10/M
      84    Roshaunda Jenkins                 Washington  DC         61    28   F       7 20-29              37:53.90    37:53.90     12:13/M
      85    Dra'Shaun Jenkins                 Washington  DC         60     7   M       3  5- 8              37:54.70    37:54.70     12:14/M
      86    Paige Albert                      Hagerstown  MD         45    20   F       8 20-29              37:56.65    37:56.65     12:14/M
      87    Blake Walters                     Hagerstown  MD         85    14   M      10 13-15              38:20.10    38:20.10     12:22/M
      88    Jenn Showe                        Hagerstown  MD        174    34   F       5 30-39              38:30.20    38:30.20     12:25/M
      89    Paulett Rinard                    Frostburg  MD         111    35   F       6 30-39              38:46.95    38:46.95     12:30/M
      90    Carley McGann                     Frostburg  MD          57    29   F       9 20-29              38:47.35    38:47.35     12:31/M
      91    Denise Abshire                    Frederick  MD          40    46   F       6 40-49              38:47.75    38:47.75     12:31/M
      92    Barbara Brostrom                  Gerrardstown  WV       58    52   F       6 50-59              39:28.00    39:28.00     12:44/M
      93    Kezia Coleman                     Annapolis  MD          78    22   F      10 20-29              39:34.35    39:34.35     12:46/M
      94    Bianca Carrera                    Frederick  MD         138    16   F       4 16-19              39:45.05    39:45.05     12:49/M
      95    Nicolas Martins                   Frederick  MD         147    10   M       2  9-12              41:10.95    41:10.95     13:17/M
      96    Wayne Martin                      Boonsboro  MD          88    44   M      11 40-49              41:12.25    41:12.25     13:17/M
      97    Kelli Martin                      Boonsboro  MD          91    8    F       2  5- 8              41:12.45    41:12.45     13:17/M
      98    Unknown Partic. 151                                     151         M       3  0- 4              41:13.15    41:13.15     13:18/M
      99    Lisa Gregory                      Inwood  WV             19    32   F       7 30-39              41:54.95    41:54.95     13:31/M
100    Kari Williams                     Inwood  WV             18    26   F      11 20-29              41:57.10    41:57.10     13:32/M